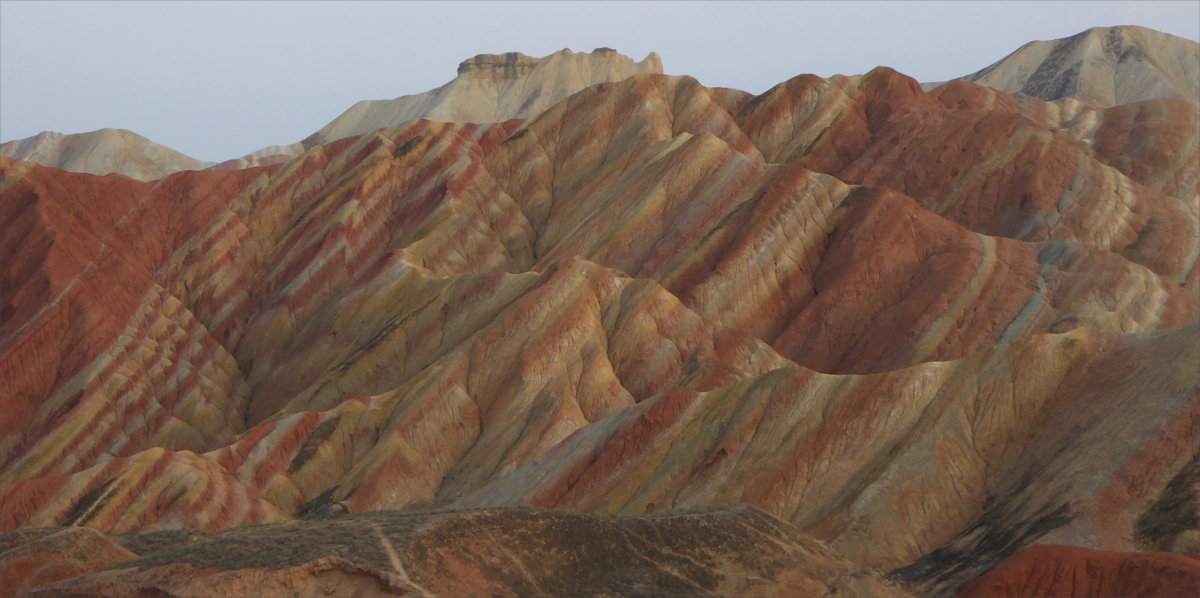 The Journey - 2016
I could hardly wait to go back to Guilin and work some more on my rudimentary Chinese at CLI (Chinese Language Institute). Side trips to Daxu Ancient Town, Yangshuo, Longji (Longsheng) Rice Terraces, and Ziyuan ensured one highlight after another.
Next destination was Zhangye in the province of Gansu. Do the rainbow mountains really look as colorful as in the pictures I had seen? Spoiler: yes, they do, unless they are heavily photoshopped! The Mati cave temple is unlike anything I had ever seen before, and Pingshanhu Grand Canyon was equally spectacular!
After a few days in Zhengzhou—in the news in June 2021 after the devastating floods claimed many lives—and Kaifeng, I took the train to Ningbo to meet dear friends. And once again, they had a big surprise for me and invited me to relatives in Yantou, a charming village with a lot of history.
One more day in Shanghai concluded another magnificent trip.
This time let's revisit Zhangye and explore the famous rainbow mountains, Pingshanhu Grand Canyon, and the grottoes of Mati Temple. Next up will be Zhengzhou and Kaifeng.
Guilin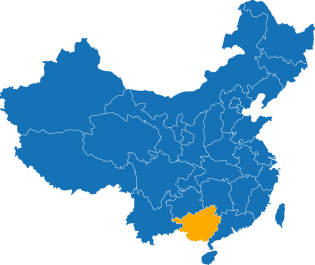 China offers so many stunning, diverse, and incredibly beautiful places. Guangxi, the province Guilin is located in, stands out with its karst mountains, caves, rice terraces, and even Danxia landforms. I was lucky to get a taste of all of them during my 5-week stay in Guilin.
Our series of excursions started with a daytrip to Daxu, an ancient well-preserved town, easily accessible in less than an hour.
Next highlight was a 4-hour Li River cruise from Guilin to Yangshuo – it felt like drifting in a fairy tale!
Strolling through the rice terraces at Longsheng (also known as Longji), built and maintained for 650 years already, had been on my wish list for a long time.
Less famous than Zhangjiajie—which served as inspiration for the movie Avatar—but similar and equally spectacular is the Ziyuan area with its distinct Danxia landform.
A gondola ride quickly got us up one mountain. I shared the cabin with a middle-aged local woman. She was excited, enjoyed the ride just as much as I did, and we chatted a bit: She was from the area, and this was her first time at the Ziyuan Danxia National Geopark. She's never been to the rice terraces nor on a Li River cruise nor to Yangshuo. This was a very special day for her. I'll never forget this brief conversation. It made me truly understand how privileged I am, and this was only the first part of that year's journey!
All these trips were organized by Summer, CLI's event manager and one of my teachers.
Just as in 2015, I started my adventure with four weeks of one-on-one Mandarin classes at CLI. It felt good coming back; everything was so familiar; everybody was so welcoming. I was excited when I saw my class schedule. Katherine would again be my main teacher, with Lee I would have my first male teacher (promising a fresh new perspective), and Summer and I would work on my speaking and listening skills.
Different year, different month. I never thought that I'd even meet fellow students from my first stay. We enjoyed many activities together, from local explorations to the aforementioned weekend trips. Zhaina and I often went out for foot massages—how I miss them, painful as they are—and Matthieu, Pauline, and I agreed that nothing beats a meal at the Nengren Temple vegan restaurant followed by a couple of hours at a nearby teahouse.
Remembering other new friends—especially Alibaba (lawyer and marathon runner with a big heart from the US), Andrea (from Liechtenstein; google it if you've never heard of this country), Enzo (intern at CLI), and Matt (my good buddy at so many local outings)—always brings a big smile on my face.
Visited: Li River – Seven Star Park – Li River – Dreamlike Lijiang Show – Culture Street – Daxu – Li River Cruise – Yangshuo - Longji/Longsheng Rice Terraces – Ziyuan Tianmenshan – Ziyuan Bajiaozhai
Zhangye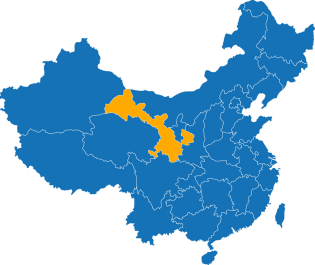 While in Europe "all roads lead to Rome", in China they lead to Xining! This city was the starting point for our Qinghai adventure in 2011. In 2012 I embarked right here for the 24-hour train ride to Lhasa. This time, the city was my gateway to Gansu.
Coincidences, so many of them! My classes at CLI in Guilin had come to an end. In a few days, I would leave Guilin. One evening I bumped into Molin, a long-time teacher at the school. Until that day, we'd only talked briefly. She asked: "So, what are your next plans?" "Going to Zhangye, I'd like to see the rainbow mountains!" "I'm going there, too," answered Molin. As per our prior travel arrangements, we would arrive at the train station in Zhangye on the same day, just one hour apart!
And so began our two-day Gansu journey together. This was just meant to be! Molin waited for me at the train station and quickly found us a driver for the next two days. The only practical way to reach our three destinations was by private car, each more than an hour's drive away on dusty and sometimes unpaved desert roads.
Hotel check-in, quick lunch, and off we went to Zhangye National Geopark, home of the famous rainbow mountains.
On the way, we stopped at a random village to have a look. Molin started a conversation with an older couple, asked all kinds of questions about their lives and work. Their heavy dialect sounded like a completely different language to me—needless to say, I was lost. The apple trees were heavily loaded. I asked if we could buy a few. The farmer quickly picked and filled a big bag for us but refused to accept any money. Molin then spent 5 to 10 minutes writing down their address, so that we could later send them a postcard as a thank-you. Why did it take so long? It was a constant back and forth to get all the characters right.
Many Chinese syllables have the same pronunciation but are written with different characters. For example, "shù" can mean tree or number or vertical or bundle or art/skill or state/narrate, to name only a few. So, the exchange between the two women went on like this: "Shù as in apple tree?" "No, not this one," followed by a gesture. "Ah, shù as in jì shù?" "Yes!" She looked over Molin's shoulder and again shook her head when she saw the character from the word for technology. Then she took Molin's hand and used her index finger to draw the character for shù as in jì shù for count onto her palm. The same clarification went on for several other characters.
I was very impressed how diligently Molin was in getting the address right. And yes, I sent them a postcard from Canada as soon as I got back home.
The next morning, we set off to Mati Temple. Colorful shrines, caves, balconies, winding passageways and staircases are built into the reddish-brown sandstone grottos. The surrounding scenery is equally spectacular.
Pingshan Grand Canyon, our third destination, was again very different. We drove through desert-like, otherworldly landscape with the occasional camel crossing in the distance.
After Molin left, I spent a few more days exploring Zhangye, catching up on some work, and organizing the next part of my trip.
Visited: Zhangye – National Geo Park (Danxia, Rainbow Mountains) – Mati Temple (Matisse) – Pingshanhu – Gan Quan Park – Dafo Temple (Great Buddha Temple) – Xining
---