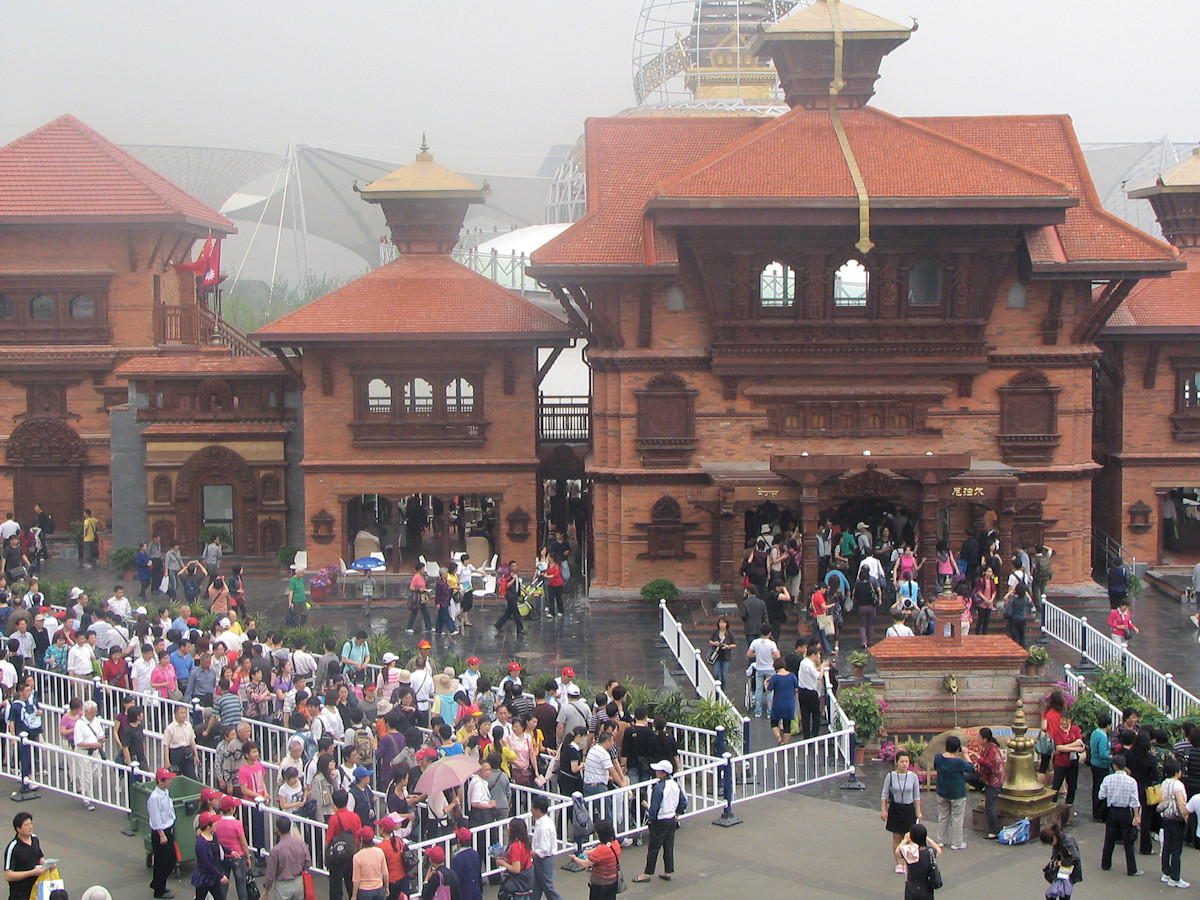 Typical line-up at Expo
The beginning of an exciting journey – Shanghai during Expo
Except for a few more new super high buildings, the city probably hasn't changed much since I first set foot on Chinese soil in 2010. Looking back at my pictures, hazy/foggy weather also is nothing new. On the other hand, my view and knowledge of China have improved greatly. Back then I had hardly heard of Chinese cities other than Beijing and Shanghai, and I wasn't even sure where exactly to find these two on a map.
One of the highlights in Shanghai was its contemporary architecture. The skyscrapers of the financial and commercial district Pudong are a must-see. It's definitely worth taking the elevator up in at least one of the tall buildings. We chose the World Financial Centre Tower.

Compared to other cities, traditional style buildings with the curved roofs are rare. But you still find them in the Old Street close to Yuyuan Garden. I also liked the contrast between the traditional-style Jing'an Temple and the super-modern surroundings.

While I was there, Shanghai hosted Expo 2010. It was huge, impressive, and very crowded. To give you an idea, displays on the subway always showed the up-to-date number of visitors on that particular day. On one Saturday evening it had already exceeded 1 million. I went there several times and still only covered a fraction. Some of the more interesting pavilions had waiting times of more than two hours.
Most people actually lined up and waited patiently. But there were also those notorious line-cutters who would just climb over fences and squeeze in. When I first noticed it and looked up to my Chinese companion, he shrugged it off and said "just let it go…". And I did. It's one of my principals when traveling: I'm there to observe and learn, not to change peoples' ways of life. Whether I like it or not, I just go with the flow. If people feel the need they will change, but using their own method. And I have seen a lot of drastic changes in peoples' behavior over the years – enough to talk about in another post.
Of course, I'm not fond of line-cutters, however, I've always admired staff at those busy ticket booths, be it tourist destinations or subway and train stations. It's truly an art they have mastered. They know how to manage huge masses of people efficiently and keep lines moving. Lesson learned: efficient doesn't always mean first-come-first-serve.
Shanghai Expo 2010

I'm glad my friend accompanied me for the first few days. He showed me how to get around, equipped me with a convenient transportation card and a mobile phone, and taught me how do cross roads safely (sounds trivial, but it isn't). I still was a little bit nervous on my first solo outing but quickly got used and fairly comfortable. The extensive subway net in Shanghai (and Beijing) with its easy to understand layout was a huge help. All signs and announcement where in Chinese and English. I love wandering off without paying much attention to my whereabouts. Getting lost wasn't a problem; I just had to ask for dì tiě 地铁 = subway to get back.
We rode the Maglev train at 300 km/h and toured many more places such as the famous Bund, French Concession, Renmin Park, Site of the First National Congress of CPC, Wax Museum, Ocean Aquarium, and Zhongshan Park.