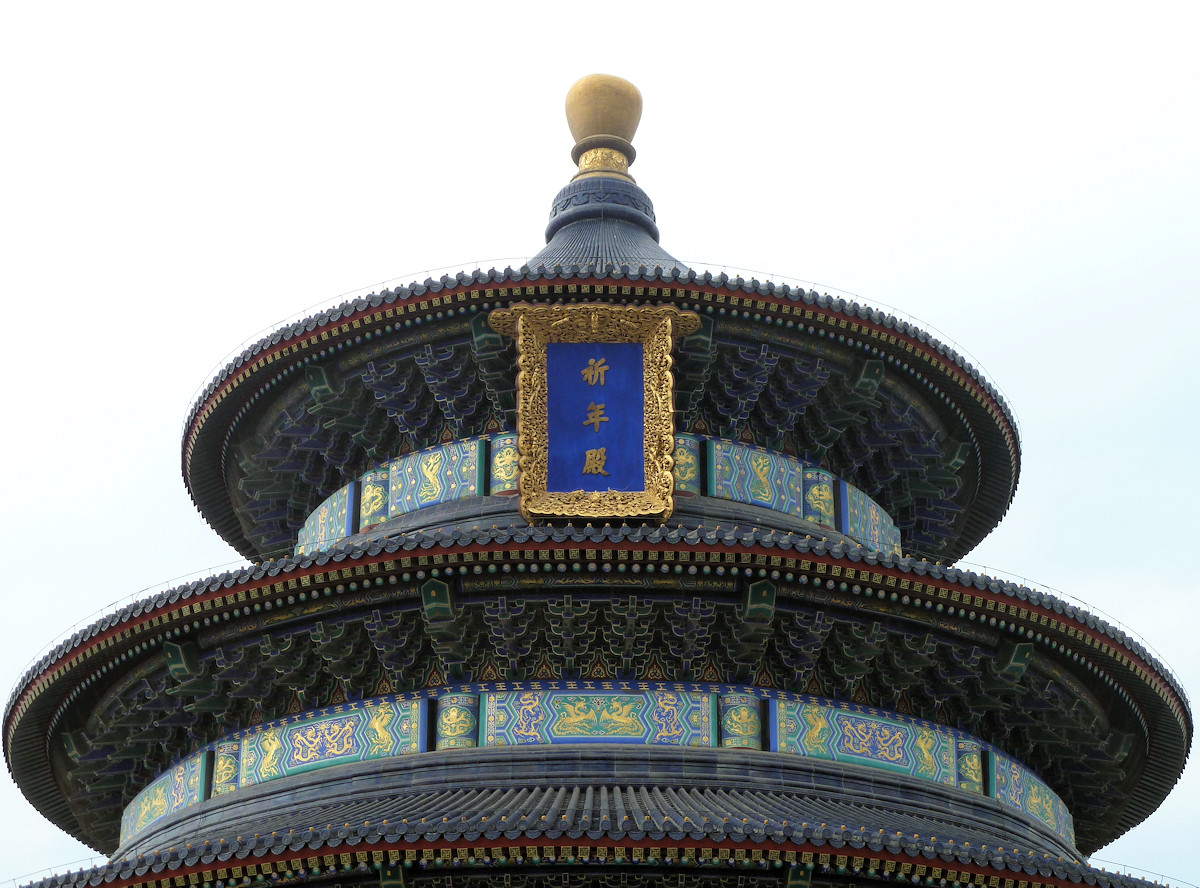 Temple of Heaven – masterpiece of architecture and landscaping
I visited Temple of Heaven twice. It was my first destination in Beijing in 2010 and again a year later when two good friends from Campbell River, BC, accompanied me for part of the trip.
Although one of the main tourist attractions, it wasn't nearly as crowded as expected. Light rain on and off probably kept locals away on both occasions. Temple of Heaven is an imperial complex of religious buildings and has been regarded as a Taoist temple. All structures are meticulously kept, there are hardly any parts left due for a new coat of paint.
Tour groups go straight to the main buildings but as soon as you take one of the countless side paths there's often nobody else to be found.
Temple of Heaven
The temple is nested in a huge park, totalling 267 hectares (660 acres), which is just as interesting as the main attraction.
Parks are an integral part of Chinese life style. If you think that sitting in a street café watching people is a fun activity, you'll love Chinese parks even more. Inside every park, you'll find vibrant and silent sections, convenient layout and artful landscape design, open and sheltered places with plenty of benches where people can gather and socialize. Often there are fish ponds, squares with and without stages, waterfalls, caves and interesting rock formations, ancient trees, bonsai and rose gardens, free exercise equipment, statues, rock inscriptions, as well as hedges and flower arrangements trimmed into Chinese characters. If there's a lake, there will be pedal boats for rent. Some parks come with smaller zoos and amusement parks, there might be light shows, and speakers along the paths might play soft Chinese music. Every park is a little bit different and most parks are very well used. Some parks are free, some charge a fee (which I always found reasonable); often there is no or almost no charge for locals.
So, what DO people do in the parks? Everything you can and cannot think of! Singing, dancing, playing instruments, cards, mah-jong, chess, practising tai chi, runway walking, backwards walking, reading, studying, exercising, socializing, reciting poems, practising dance steps, flying kites, taking pictures, dressing up and performing Chinese opera, painting, playing badminton and ping pong. A very popular pastime is writing Chinese characters on sidewalks using huge paintbrushes dipped in water. As soon as the water dries up, the writing disappears. There are marriage markets (that'll be part of another post). The list is endless. Below is a picture of a guy standing on a park bench reading a book. Back then I found it a funny sight, now I've blurred his face.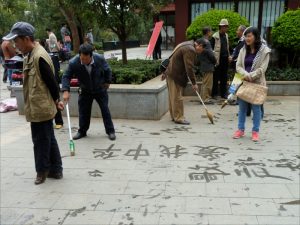 Early on I realized a big difference. When we perform in public, we usually do it to entertain others. Sports like running might be different, but if somebody plays an instrument on a sidewalk, usually the musician wants others to listen and hopefully drop a few coins. In China's parks, people "perform" for themselves. Just as we would practice those things at home, they just take it to the park.
Sometimes you walk along a path with many little groups side by side playing their own and very different music; for the one walking by it sounds awful. But that's the point, it's not done for passers-by, it's just for their own little circle.
So, the park is really just an extension to their own home where people freely practice whatever they are passionate about, nobody judges them, nobody makes fun of others' imperfection. All of a sudden, I didn't feel good about making fun of that guy on the bench anymore. Taking such personal pictures in a park felt more like peeping through a keyhole – you just don't do that!
Park around Temple of Heaven
I love the parks, but you'll rarely find pictures in this blog that show how people are using the parks. Go and immerse yourself if you got a chance. I wish we would transform one of our parks and use it just as young and old in China.