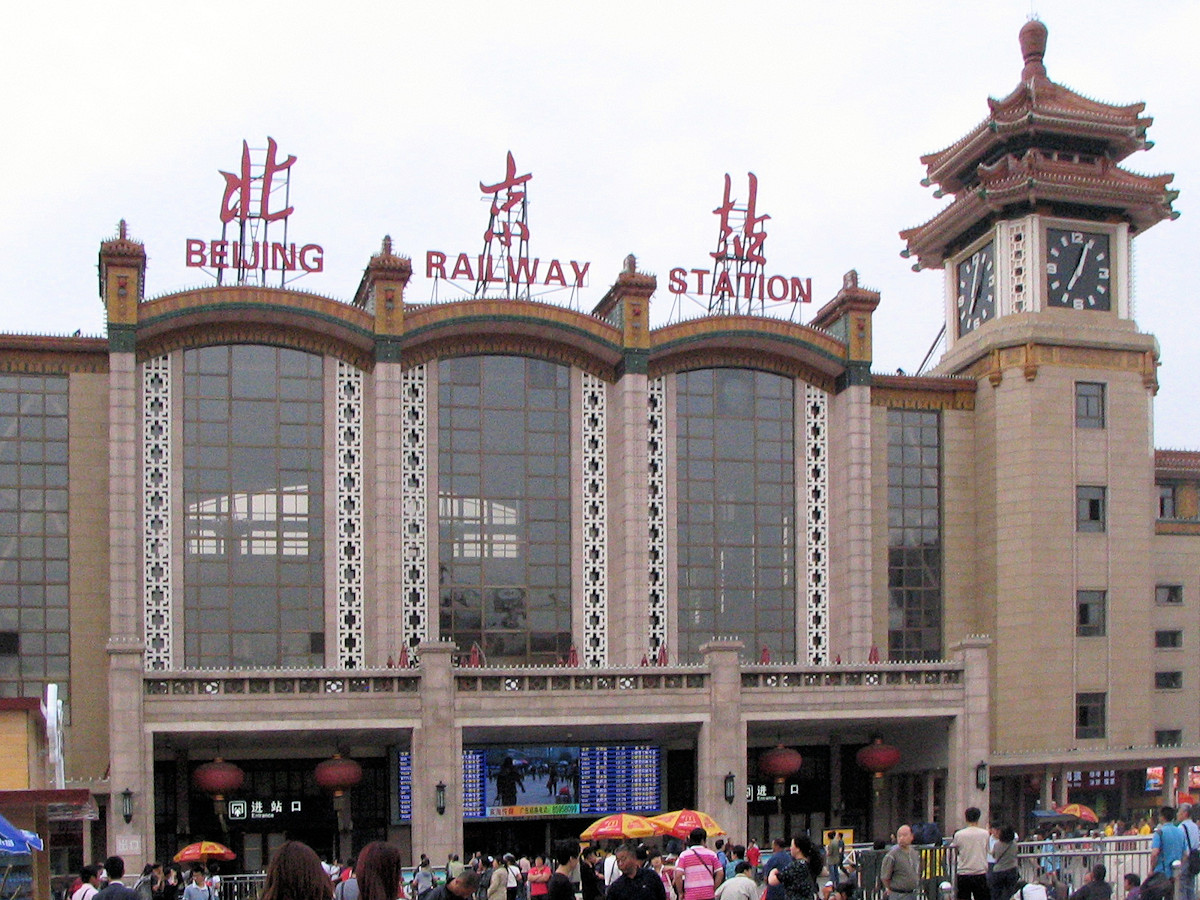 The tail ends of a train ride from Beijing to Xi'an
It was my first time in China and I still was very inexperienced. So far, everything had gone so well. The hotel in Beijing (Holiday Inn near the Temple of Heavens) had helped me book an overnight train ticket to Xi'an. I checked out, sat in the lobby for a while and decided to head out to the train station well ahead of the departure time. If I have to kill some time, I might a well do it at a place where there is a bit more to see.
The cab ride was supposed to take less than one hour. It was a rainy day. As soon as we left, it turned into a downpour of epic dimensions and we were soon stuck in traffic jam with no escape. A lower lying part of the road ahead was flooded and there was nothing else to do than to wait it out. There was no subway line close by and busses were not moving either. After about an hour we slowly got into motion again. I was getting a bit nervous and almost convinced that the train would leave without me. The taxi arrived at the train station less than 10 minutes before departure, I entered the hall and heard announcements for "Xi'an", had no idea where to go and just ran while constantly asking random passengers "Xi'an, Xi'an?". Guided by peoples' pointing, I finally entered the train and found my seat. Two minutes later the train left the station on time.
I shared the compartment with three other adults and a child. One of them was a gentleman maybe in his forties. He soon tried to chat with all of us. He didn't speak English and I only knew very few words in Mandarin; we couldn't communicate. The other travelers were hesitant at first but quickly loosened up and they all engaged in a lively conversation. I just looked out of the window, trying to catch at least some basic words but couldn't even make out an "I" or "you". What strange language were they speaking???
I slept light but reasonably well and we arrived in Xi'an at 7 am. I had read about notorious places for tourist scams and pickpocketing and wasn't surprised to find myself at a very crowded plaza with countless touts trying to sell tours, maps, hotel rooms, and taxi services. I really practiced the one phrase for occasions like this, "bù yào" = "don't want", over and over while looking for the official taxi stand. Suddenly it looked as if two noisy touts were engaged in an argument. They started pushing each other less than a meter beside me and eventually shoved me as well. I just tried to get away. On his way to catch a cab, too, the friendly train companion had seen the scene, came over, exchanged a few words with the two peddlers, then motioned me to follow him.
We both were soon lining up for the next cab. He first beckoned me to get in, then took the passenger seat. I gave the cab driver my hotel address. While sitting in the backseat I noticed that the zipper of my purse beneath the fold-over was open. So, that was a fake argument between those two touts! I decided to wait until we got to the hotel before inspecting the contents in my purse. At least there would be someone who can speak English. It was only a short ride. To my surprise, my strange protector settled the bill with the driver, strictly refusing to let me pay, and also got out. Had he booked a room at the same hotel?? We entered the lobby and he signaled that I should go ahead and check in. No problem, wallet, passport, and everything else were all there – phew! I looked over to the gentleman who was about to turn and walk away. All I could do is say "thank-you, thank-you…" in Mandarin and English and he was gone…
At that moment, I started to fall in love with this country and its people. I will never forget my kind, gentle guardian who must have noticed the pickpocketing attempt and decided to make sure that I am alright despite the complete lack of a common language.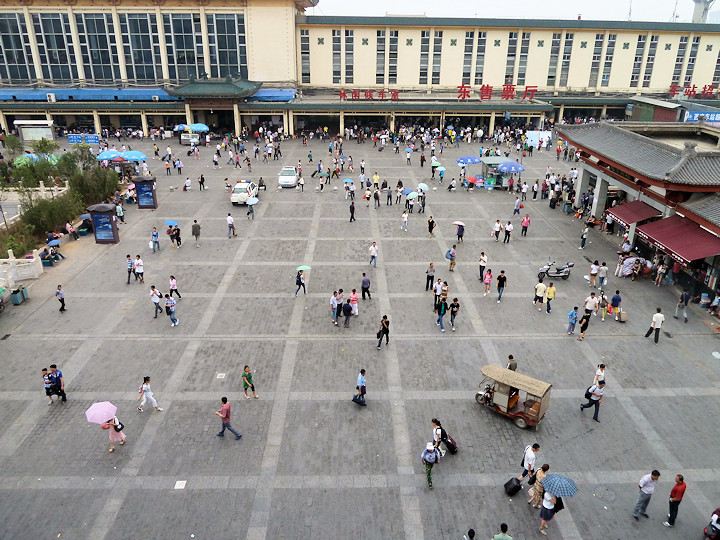 Xi'an train station – Imagine about 10 times as many people. To get to the taxi stand you have to cross the whole plaza and you are constantly approached by people who want to sell you something…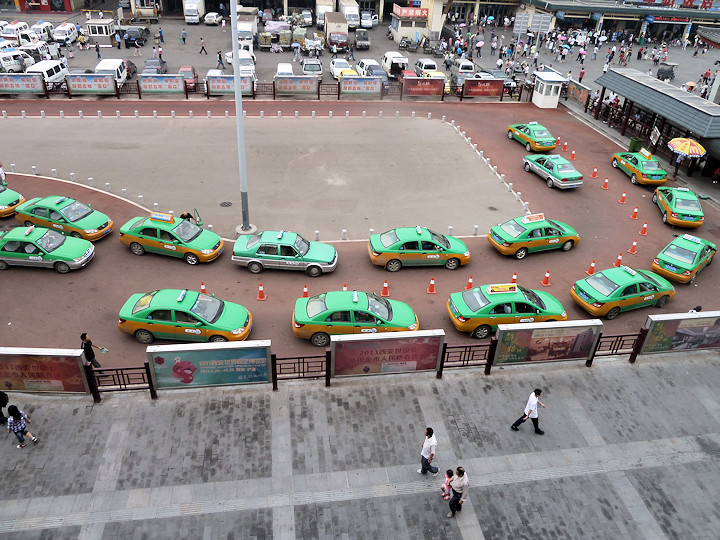 Taxi stand
---
Update: This was the only time that someone tried to steal from me and I haven't lost a single item during my extensive trips. The following year, I took the train to Xi'an again – this time with friends from Canada. At least one of the two wannabe robbers was at the same plaza again…